Peleliu Reserve Group
2nd Battalion, 7th Marines
PFC William "Bill" Parish, E-2-7
"I was with E-2-7 with the 60MM mortars. We did a lot of walking looking for the colonel's opportunity to unload some shells. I was carried off after 7 days so did not see the action that many saw."
Bill P. Cumbaa, 2nd Lt., 2nd Platoon, F-2-7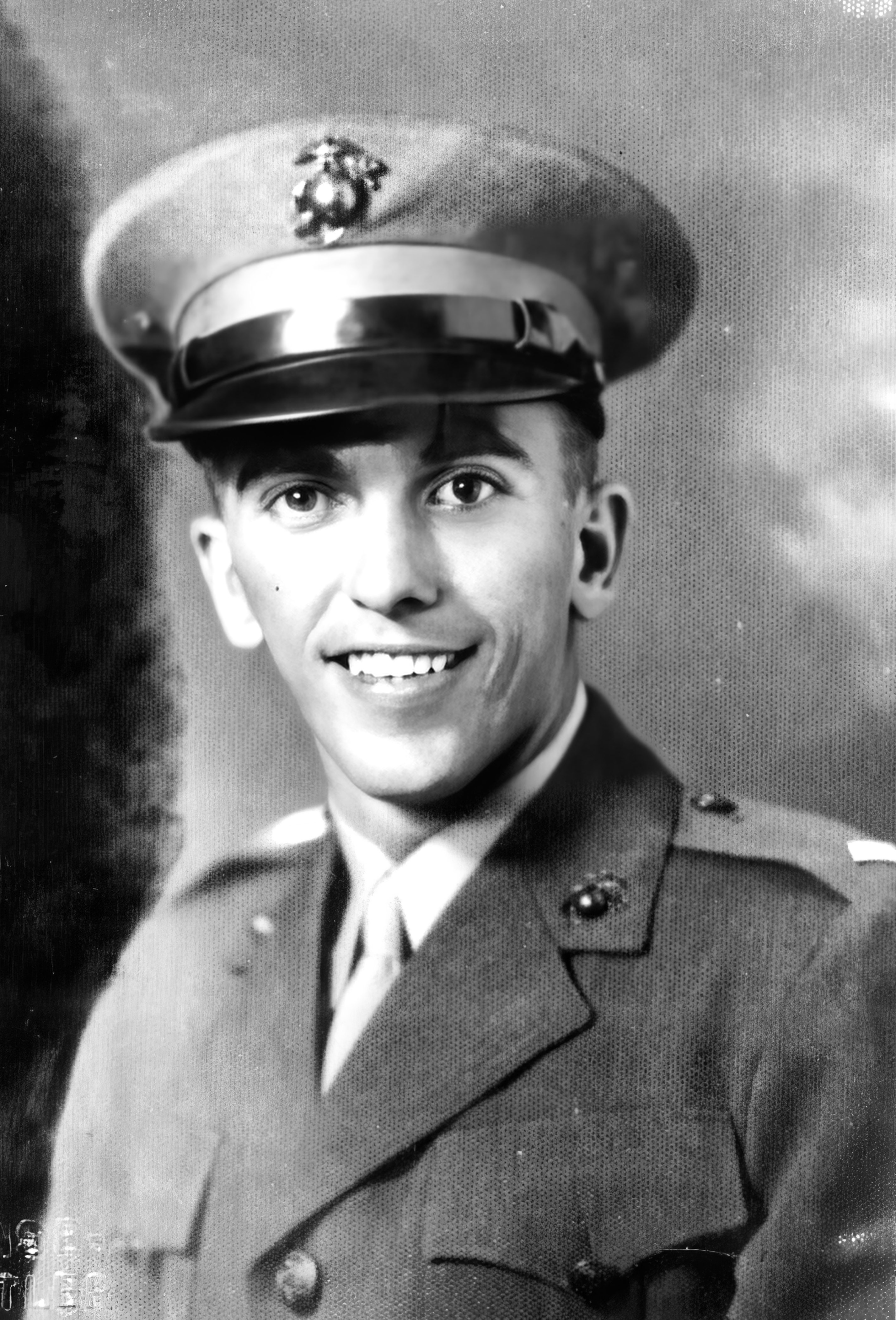 "Our mission was to remain aboard ship during the initial landing, but be prepared to disembark immediately if one of the units in the initial landing got into trouble and needed help.

Although dressed with all of our gear at 'the ready', since we were not going ashore immediately, we got to stand on the deck of the ship and watch the First Wave as it headed for shore and observe the air strikes and naval bombardment as their combined efforts 'lit' up the beaches. We also saw the heavy artillery of the Japanese go into action as they returned fire and saw many direct hits on our landing craft as they were headed for shore.

It is impossible for me to describe the various emotions we felt as we watched this horrific drama unfold before our eyes, and knowing that sooner or later we would be a part of it.

H hour was at 8:32 AM on Friday morning, September 15, 1944 and late in the afternoon of the same day, we got word that we were going ashore.

We found out much later that our presence had not been requested by any of the units that were ashore; however, it seems that the communication system between ship and shore had broken down and that some high ranking officer had decided that to be on the safe side, the Division Reserve should be sent it.

It took quite awhile to get enough landing craft assembled to take us in, but finally they arrived and we climbed down the rope 'ladders' into the boats and headed for the 'Line of Departure'. When our landing craft reached the Line of Departure and reported to the Wave Master, he told us that he had no orders to allow us to go ashore and told us to return to our ship!

We had no choice but to do as we were told, so we turned around and headed for the ship. We soon discovered that it had moved further out to sea as soon as we disembarked so as to be out of range of Japanese artillery fire. Naturally, we went further out to sea in search of the ship and finally found it. By this time, it was totally dark and when we requested permission to come aboard, we were told by the Captain that his orders were to disembark troops, not to embark them so we were refused permission to come aboard!

As a result, the 2nd Battalion (Division Reserve) stayed afloat all night long, on a fairly rough sea, for a total of 17 hours before proper communications between ship and shore were re-established and the Wave Master was instructed to allow us to come ashore!

You can imagine the condition we were in after having spent that many hours crowded in the small landing craft with all our equipment, with nothing to eat except our combat rations, and of course, no head!"
1st Tank Battalion (- Companies A-C)
John C. Hickcox, C Co., 1st Tank Battalion
"I was there with the 1st Tank Battalion as the maintenance officer of C Co. Unfortunately, on the morning of the second day, an enemy 150 mortar found our Bn Hdqts, killing Bn Dr., Bn Maint. Officer and our Asst 2 officer, and wounding many others. I was elevated to Bn. Maintenance Officer and took over coordinating all tank maintenance and wheeled vehicle maintenance until we were relieved by the Army tanks after 2 ½ weeks of aiding the 1st Division regiments on Peleliu."
1st Reconnaissance Company
No veterans have submitted recollections.
2nd Platoon, Company C, 1st Engineer Battalion
No veterans have submitted recollections.
Detachment, Company D, 1st Medical Battalion
No veterans have submitted recollections.