Peleliu Marine Air Group 11
Headquarters
Cpl Anthony F. Butera, Marine Air Group 11
"I was in a special joint command communications unit assigned to MAG11. We were off shore on the USS Mormacport when the invasion began on Sept. 15 1944. On Sept 17, an announcement on the PA system said "All Marines prepare to depart you are needed on shore". The next time I departed from Peleliu was July 5, 1945.
I have never forgotten Peleliu and at 83 years, I seem to think about it more often, I was a Marine God saved and I shall never forget."
Cpl Don Johnson, Marine Air Group 11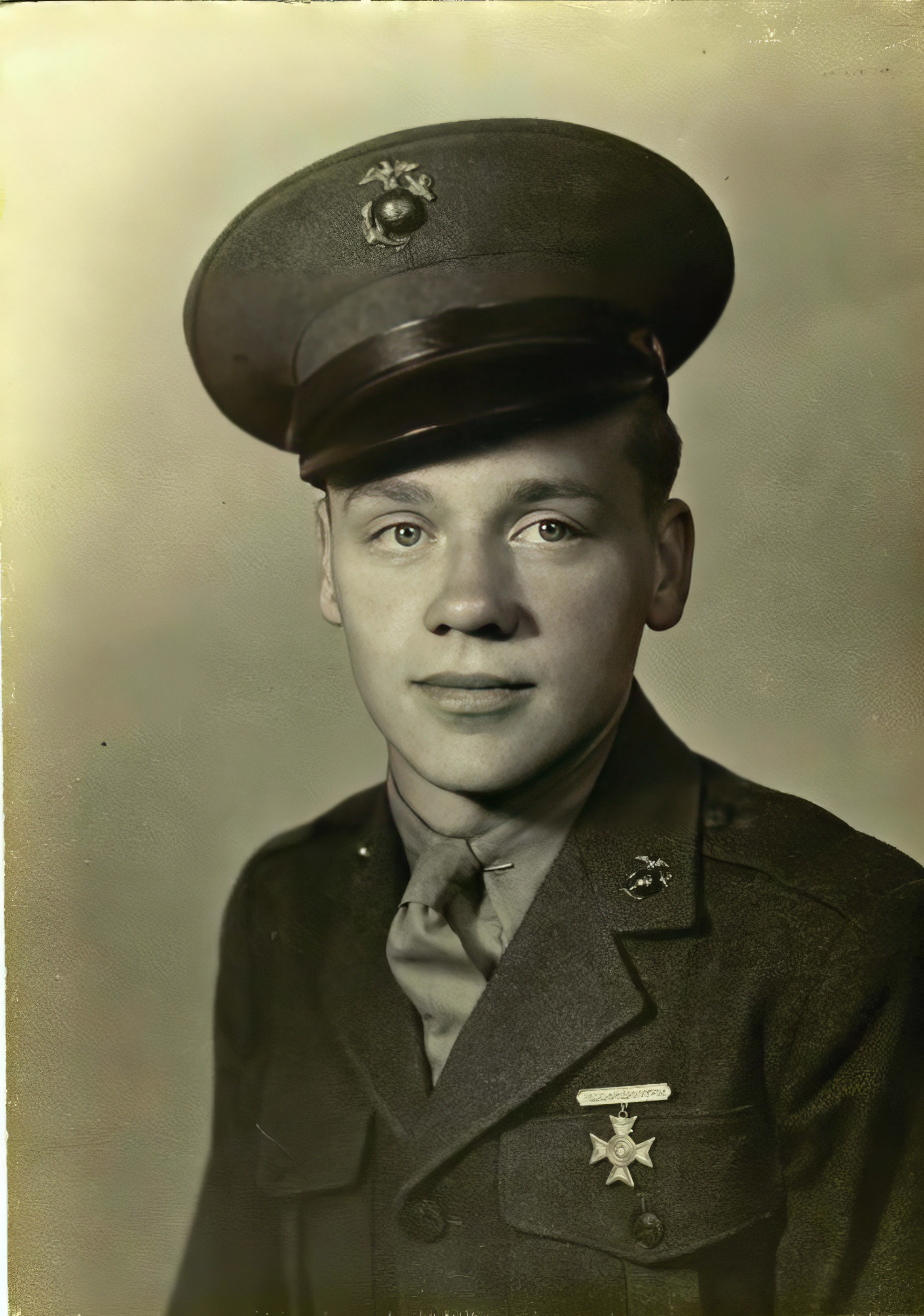 "I landed on Peleliu's Purple Beach Sept. 23, 1944 with the Headquarters and Service Squadron of MAG 11, First Marine Air Wing. We hiked to the hanger area on the north side of the airport in the pouring down rain. About two days later after trying to set up our camping area, I was one of several telephone communication guys asked to go and help out the First Marine Division with their telephone system. They had a devastating amount of casualties after landing on Orange and White Beach, and had only ten out of the original sixty telephone men left. I worked with the First Marine Division until they were relieved by the 81st Army Division on Oct. 30, 1944. I then helped set up the Islands permanent communications system. The Marine Corps, Navy and Army worked together under the Island Command which was headed up by an Army Captain. I don't recall his name but he was a twenty year man that had come up through the ranks and everyone liked and respected him."
James 'Jim' M. Stinson, Marine Air Group 11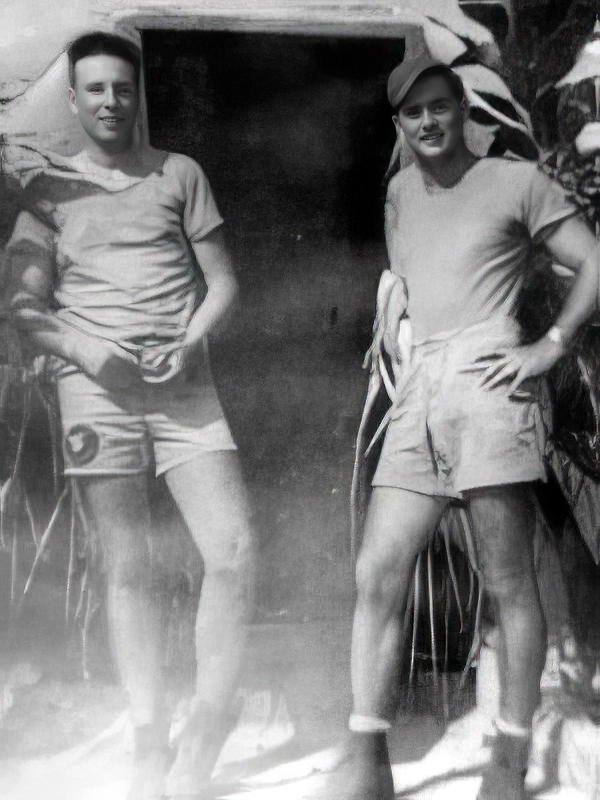 This photo was taken in September 1945. Jim Stinson is on the left and Dale Wise is on the right.
VMF-114
Edward Bolender, VMF-114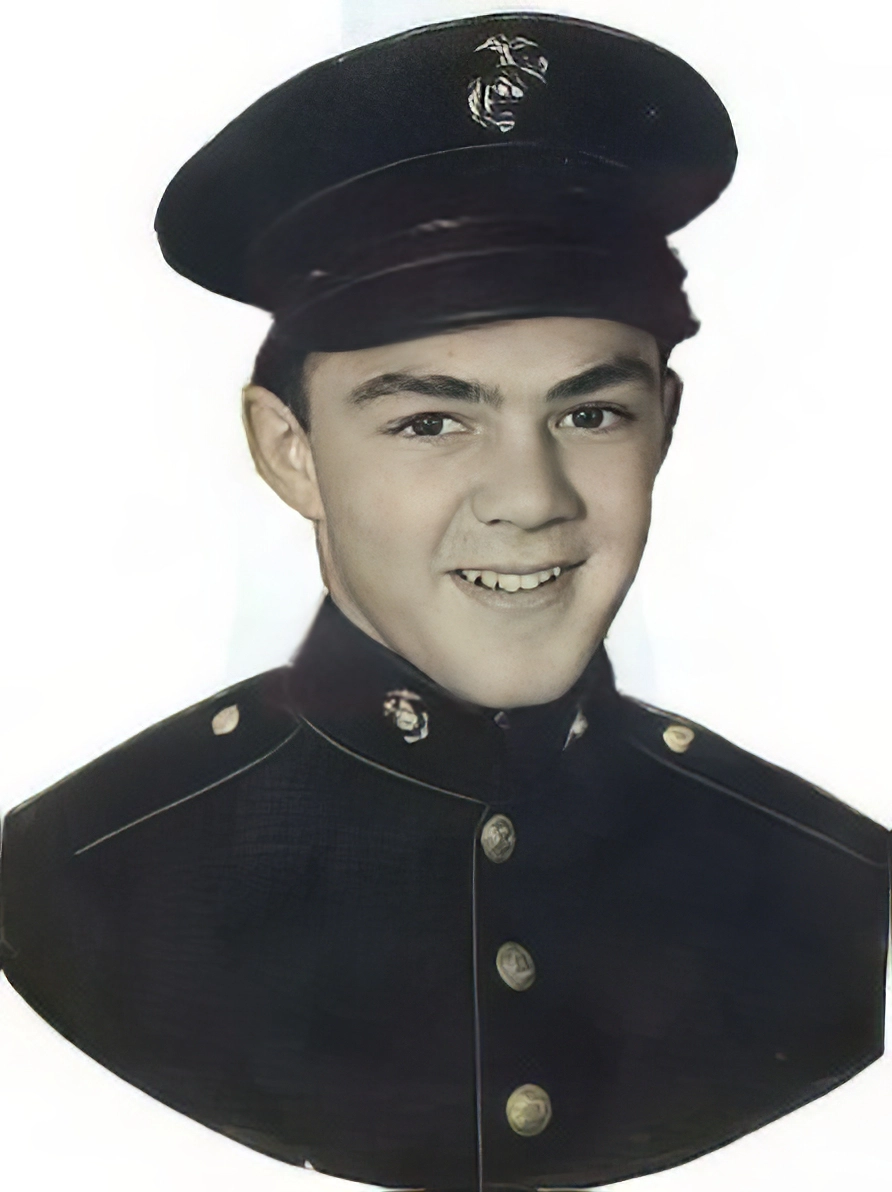 "I am a survivor of the Battle of Peleliu. I was with the Marine fighting squadron VMF-114 which landed on Peleliu on September 15, 1944. After landing our ground crew made its way to the air strip to prepare for the arrival of our Corsairs. After the arrival of our planes our squadron repeatedly bombed Bablethorpe and Koror. We were the first outfit to drop Napom from fighter planes. The Napom was loaded into belly-tanks and hooked to bomb racks and detonated by a short piece of safety wire which was attached to the planes cowling, if and when the tank did not release over bloody nose ridge the plane and pilot would have to ditch over water for fear it could release on landing. Our planes with the outstanding WHITE COWL RING would only reach a low altitude before releasing on designated cave targets. VMF 114 ground crew was relieved in April 1945 our CO Major COWBOY Stout remained until all ground crew was relieved. Unfortunately he was shot down over Koror while on a mission. His remains and plane were not found until 1948 by natives in the jungle."
VMF-121
Sgt. Tom Cain, VMF-121
"I was at Peleliu for the invasion, September 15th, 1944. I was in VMF-121, a Fighter Squadron attached to the First Division.
We were assigned (two at a time) to landing boats to work with Navy Cox sons, along with many other jobs. Some were assigned as stretcher bearers and others as rifle men. My job was to handle cargo from the ship and take wounded out to the hospital ship on our return trips.
On the night of the second day we did not get out to our ship (Tryon P.H.1) before they departed for the night. We were able to locate a boat with an anchor and tied up for the night. We thought we were secure for the night; however, several other boats moved in and joined us. Some time after midnight we dragged anchor and drifted south to the tip of the island. Since the enemy still owned that area, they started showering us with mortar which hit our boat at right about the water line. We were able to turn around and head north, but found we were taking on water. The Cox son put us up on a beach as quickly as possible.
When daylight came we were able to temporarily patch the hole in our boat, (about 10 inches in diameter). With the help of a bulldozer, we were pushed off the beach and returned to our ship. We loaded our cargo and upon return got stuck on the beach-where upon the Beach master ordered us to take a line and he proceeded to pull us off.
The Beach master also found us two other boats to tie onto on either side and take us out to the ship. After we reached the ship, and our boat was untied it sank and we had to be taken ashore.
After that night we soon learned that the little map we were given to meet our unit was of no use because we did not even have that part of the island.
We finally did find our people down where they later made the grave yard. We then became the place where everyone went to find men for every detail you could think of.
Upon opening boxes of ammo we soon found that they had sent new AP1 ammo not belted and we worked day and night belting the ammo.
Sometime about the end of September our planes came in and I went back to being an aircraft armorer and worked in the hot tropical sun for the next year loading bombs and armor. My plane was the second in my squadron to use a million rounds. We were the first squadron to drop napalm in close support for the troops at Bloody Nose Ridge. This was also called the shortest bomb run in history, as the planes did not even have time to raise their wheels."
VMF-541
No veterans have submitted recollections.
VMF-134
No veterans have submitted recollections.