Peleliu Combat Team 5 (Beaches Orange 1 and 2)
5th Marines
Louis Wihl, H&S, 5th Marines
"On Peleliu, there was no such place as 'rear echelon'. The whole island was 'up front'."
Bob Dunbar, H&S-1-5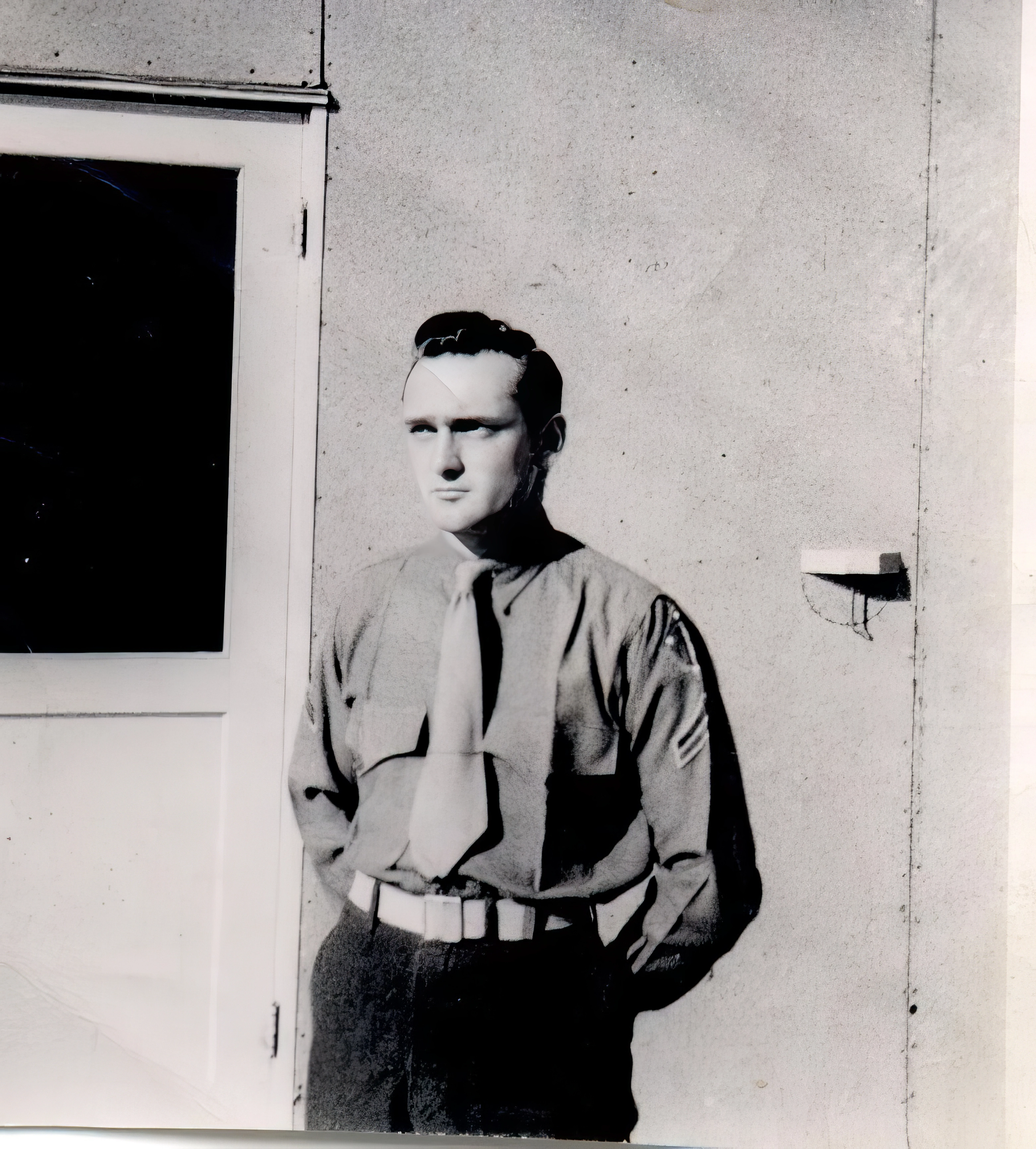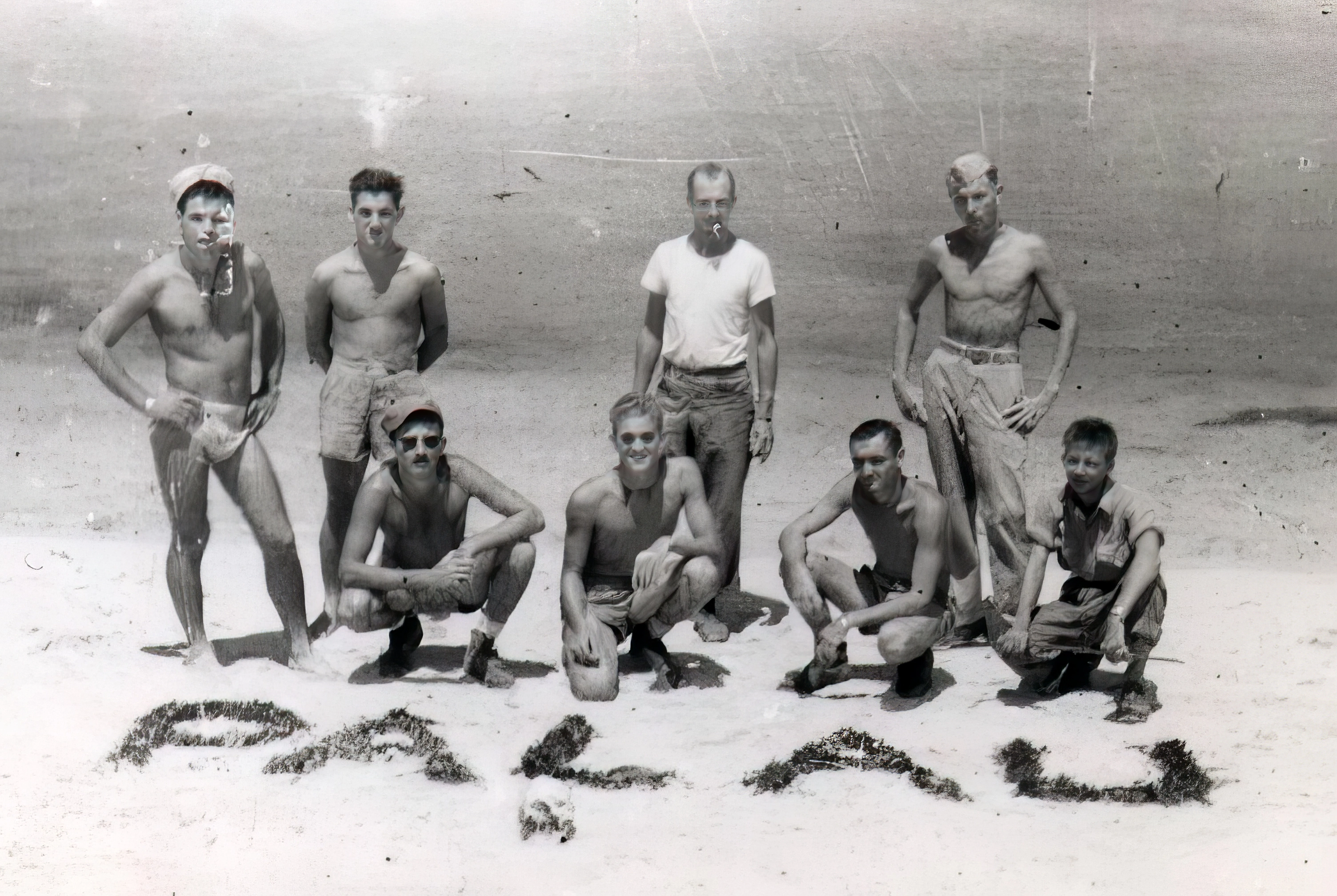 Beryl Bonacker, E-2-5
(This excerpt is from an article published in Military, Vol. XXII, No. 8, reprinted with permission from the author): "We had come to Peleliu on a troop ship; the Navy's name for it was Landing Craft Infantry, or LCI. We prepared to disembark, loaded down with gear and supplies around our waists and over our shoulders; we weren't going for a walk in the woods, believe me! We had to go over the side of the ship into a smaller boat (LCVP) that would take us ashore and then return for more men.
A cargo net stretched down the side of the ship and we went down the net hand-over-hand. If you didn't move fast enough down the net, you had got stepped on, sometimes more than once. At the bottom of the net was the LCVP, which rolled back and forth in the water.
We crouched down in the craft, each person trying not to tangle the gear on his back with the guy next to him. The boat was crowded, elbow-to-elbow. When an LCVP was full, the person in charge pulled away from the ship and got in line with other small craft as they circled the ship.There were hundreds of circling LCVPs as they massed for the assault, going ashore in waves."
Everett 'Bill' Atkinson, G-2-5
"Everyone in my platoon was either killed or wounded on that rock. After taking the air strip, we moved to Bloody Nose and reached the top where I was hit. A corporal bound me up (no doubt saved my life) until corpsmen could get me down to the beach and the hospital ship."
Edward Joseph Murray, G-2-5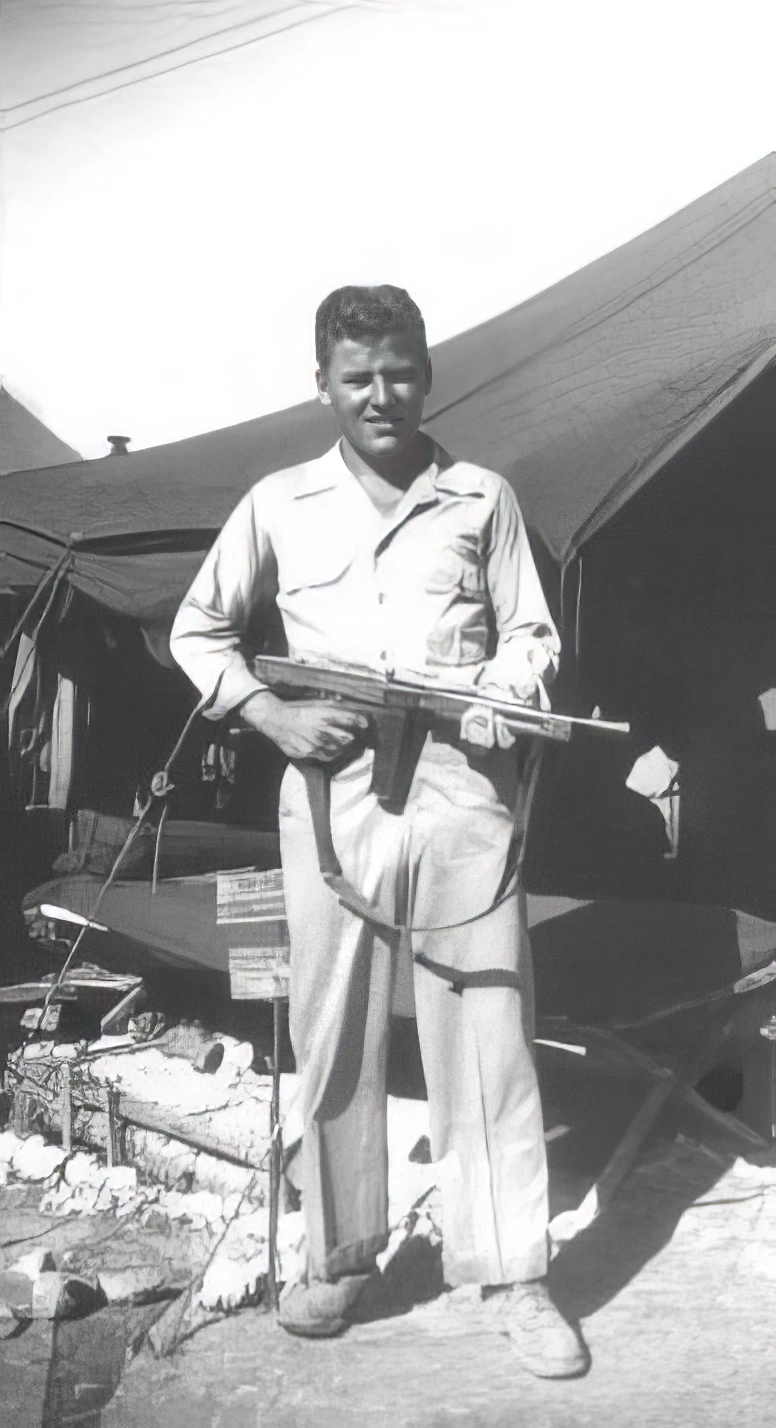 Excerpt from a letter written on the day PFC Murray was relieved on Peleliu (letter provided by grandson David Murray):

"Today is Friday, October 13th and our little son is 4 months old. We have been fighting since we launched. This is the first rest we have had, and I think we will have to go back into the hills and finish up the rest of the enemy.

It's been a bloody battle and the enemy sure was ready for us. I have some souvenirs, and I hope to send them home when I get to my rest camp. I have an enemy flag, it's not very big but I got it off the enemy. It's about a foot square and it has some Japanese writing on it."
Earle E. Massa, H&S-3-5
"I was a communication man. I laid telephone lines and connected lines so everyone could talk to who they needed to talk to. We also had to maintain those same lines and that was a day and night, twenty four hours a day job. We moved around all the time. Where ever need was, we were there. No rests. We slept standing up!
Without communication, there would be no battles fought. We like to say we were the unsung heroes of WWII."
Robert L. 'Bob' Berline, I-3-5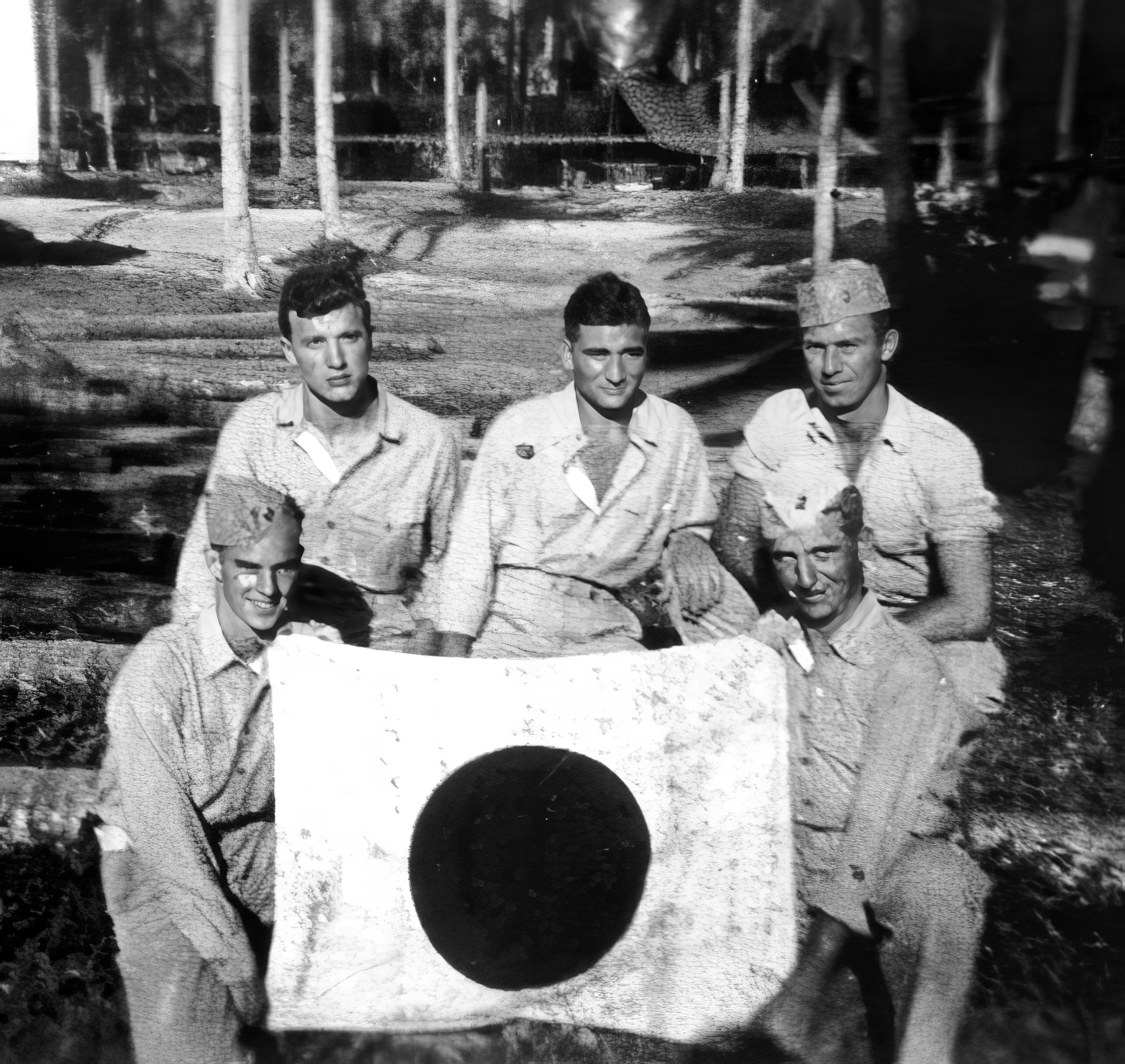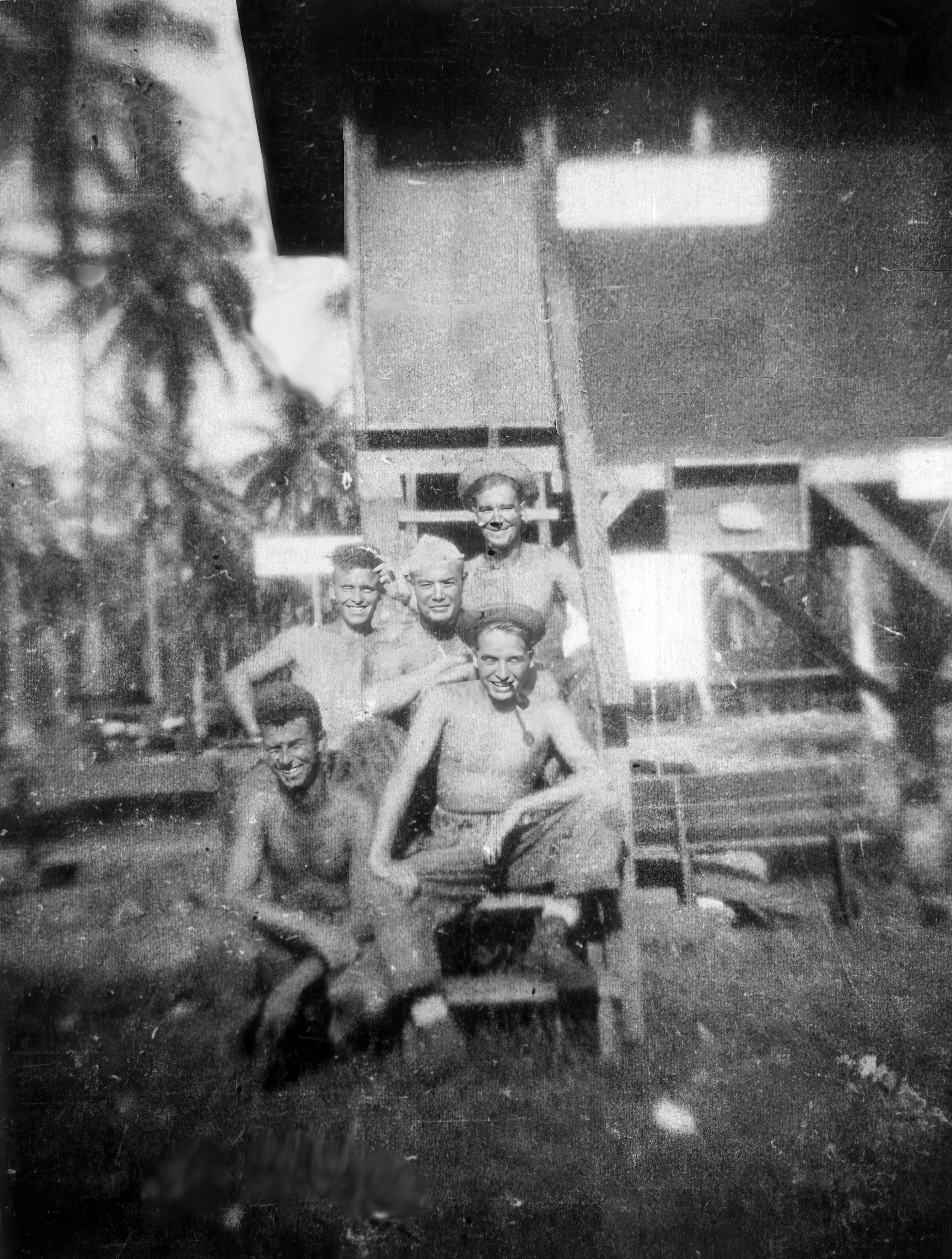 James Anderson, K-3-5
"I landed on Peleliu with K-3-5. The first wave that landed on Peleliu was Amtracs with 75 guns. I was in the second wave to land. When I crossed the air strip 10 or 11 AM, there were very few Marines ahead of me. We saw the ocean on the east side about 4 PM but had to pull back close to the air strip for the night."
Andrew Alison Haldane, K-3-5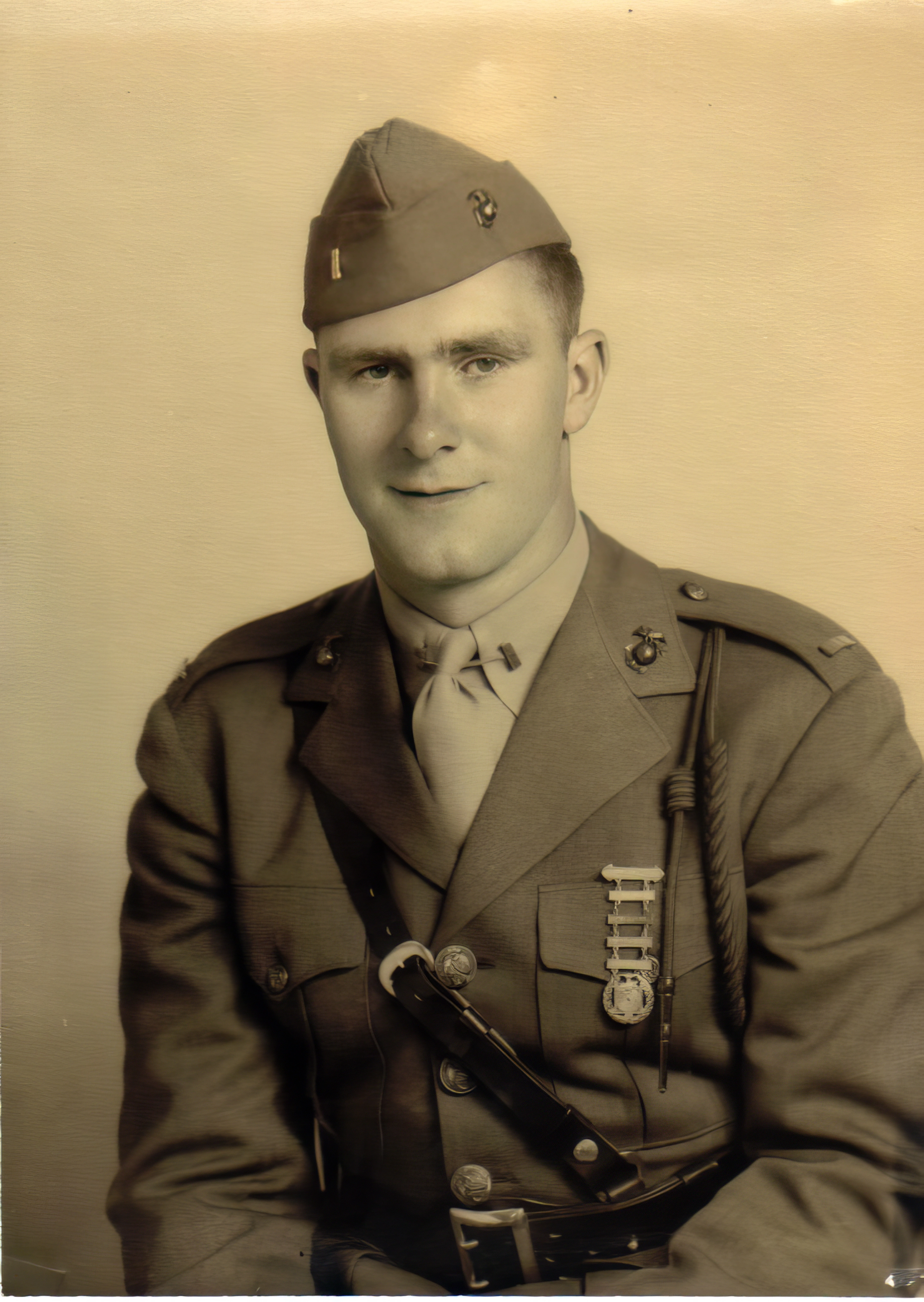 Photo provided by nephew Capt. Steven Moore, USMC ret.)

Beloved by his men, Captain Haldane was killed by a Japanese sniper on October 12, 1944.


5th Marines Company B, 1st Engineer Battalion
No veterans have submitted recollections.
Company B, 1st Medical Battalion
John 'Doc' Pfeiffer
"I was a corpsman and in the initial landings on Peleliu. Hit the beach on the end of the airfield with the 5th Marines. At that time, I was attached to D-1 Med Co. A few days later, a buddy and I were sent over to Col. Pullers 1st Marines. Seems he lost a few corpsmen along with a lot of good Marines."
Walter L. 'Doc' Davidson, K-3-5
"I spent 26 days on Peleliu from the initial landing wave on 15 Sept 1944 to 10 Oct 1944 The only time I was off the Island during that time was on 28 & 29 Sept when I was once again on the First Wave Landing there with K-3-5.
I was Head Corpsman in Ack Ack's Co K-3-5. Had it not been for Ack Ack I would not be here writing to you today. He was the best and greatest company commander I have ever met in the Marine Corps, before or since, and I have met some good ones.
I was hit by mortar fire, along with a Marine by the name of Mason. He has part of the same mortar in him that I have in my chest. My last words to Ack Ack were "Ack Ack, we shouldn't be in here" and bang—right at Masons and my feet (we were both laying down up against a very thick rock wall). Hill Billy Jones stayed with us—Mason panicked when he found out I was hit. Hill Billy got a litter for him and even though I had blood running out of my chest and left leg I was able to follow Hill Billy off of that big rock (gun emplacement, I guess that is what it was). Hill Billy was about 10 to 15 feet in front of me and I heard bullets hitting him. He jumped up on a tank and directed fire to where the enemy fire was coming from That is the last time I ever saw him. I made it to a Battalion Aid Station and was sent aboard the Hospital Ship The USS Bountiful."
Company B, 1st Pioneer Battalion
No veterans have submitted recollections.
Company B (- 1st and 4th Platoons), 1st Tank Battalion
No veterans have submitted recollections.
2nd Platoon, 1st MP Company
No veterans have submitted recollections.
2nd Platoon, Ordinance Company, 1st Service Battalion
No veterans have submitted recollections.
Detachment, Service and Supply Company, 1st Service Battalion
No veterans have submitted recollections.
Detachment, 4th Joint Assault Signal Company
Robert Earle, 4th JASCO
"I arrived at Pavuvu in the summer of 1944 with a mix of marines and sailors who made up the 4th JASCO [Joint Assault Signal Co]. Pretty soon we left for Peleliu and the Sept 15th assault. After our beach assignment ended [in chaos] I was assigned to litter-bearing duty up by Bloody Nose Ridge to pick up guys who had been hit and haul their asses out of there to a nearby med stn for first aid. My outfit [originally intended as a 48 hours-on-the-beach unit for air fire and shore fire spotting as well as beach party for moving supplies in and wounded out] stayed on the island for about a month before heading back to Pavuvu for the long stretch of hauling coral before leaving for the Okinawa operation [April 1 1945]."
Bruce Lynn Shipman, 4th JASCO, 2-5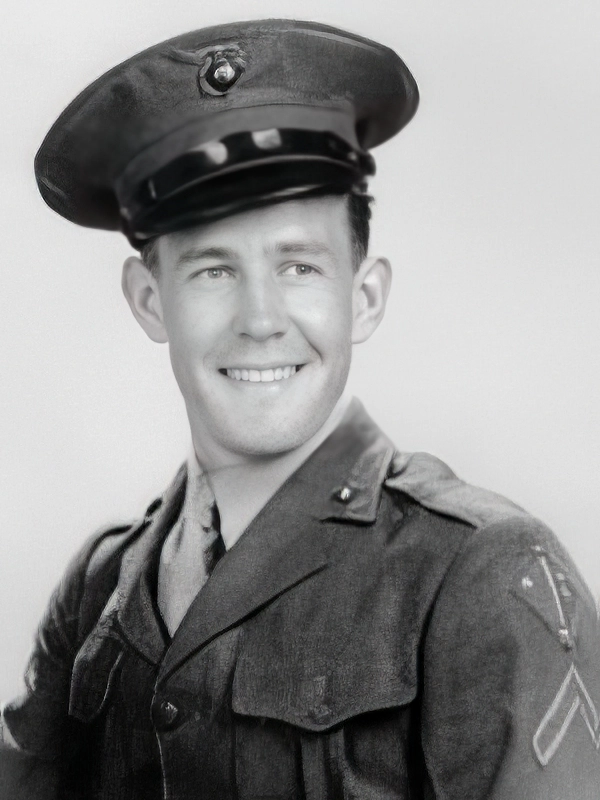 (as told by Bruce Shipman's son): "My dad was proud of his service in the Marines. He was in the Fourth Joint Assault Signal Co. attached to the 2nd Battalion Fifth Marines.

He landed on Orange Beach (third wave) September 15t, 1944. He rarely spoke of Peleliu or Okinawa but even as a child I could sense the horrors of what he witnessed was present and locked away in his head. We used to watch Victory at Sea and one story covered Peleliu, I remember looking at my dad in his recliner and seeing tears run down his cheek. We never pried for information on what he saw or experienced but sometimes I wished we would have it might helped him with what he was dealing with. He died July 27, 1991 from a lung disease. The last time I saw him alive I was shaken and sobbing, he took my hand and said "never be afraid."

In 2004 myself and two of my brothers made a trip to Peleliu in his honor along with all the other Marines who gave their lives so that I might be able to write this short paragraph. Thank You." —Shawn Shipman