Peleliu Combat Team 7 (Beach Orange 3)
H & S
Carmen Libertucci, H&S 7th Marines, Radio Operator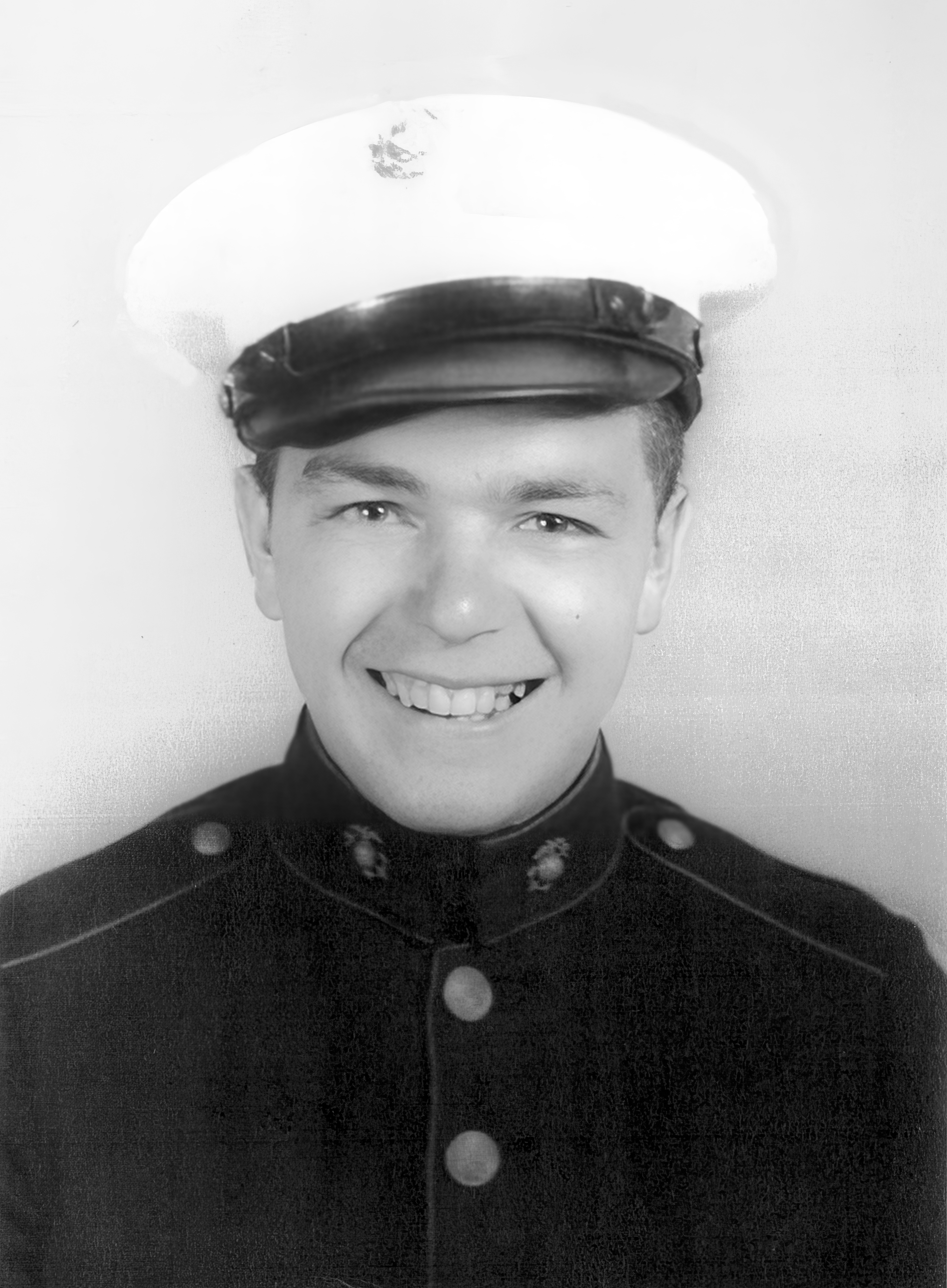 Constantine 'Gus' Pantelis, H&S 7th Marines, Radio Operator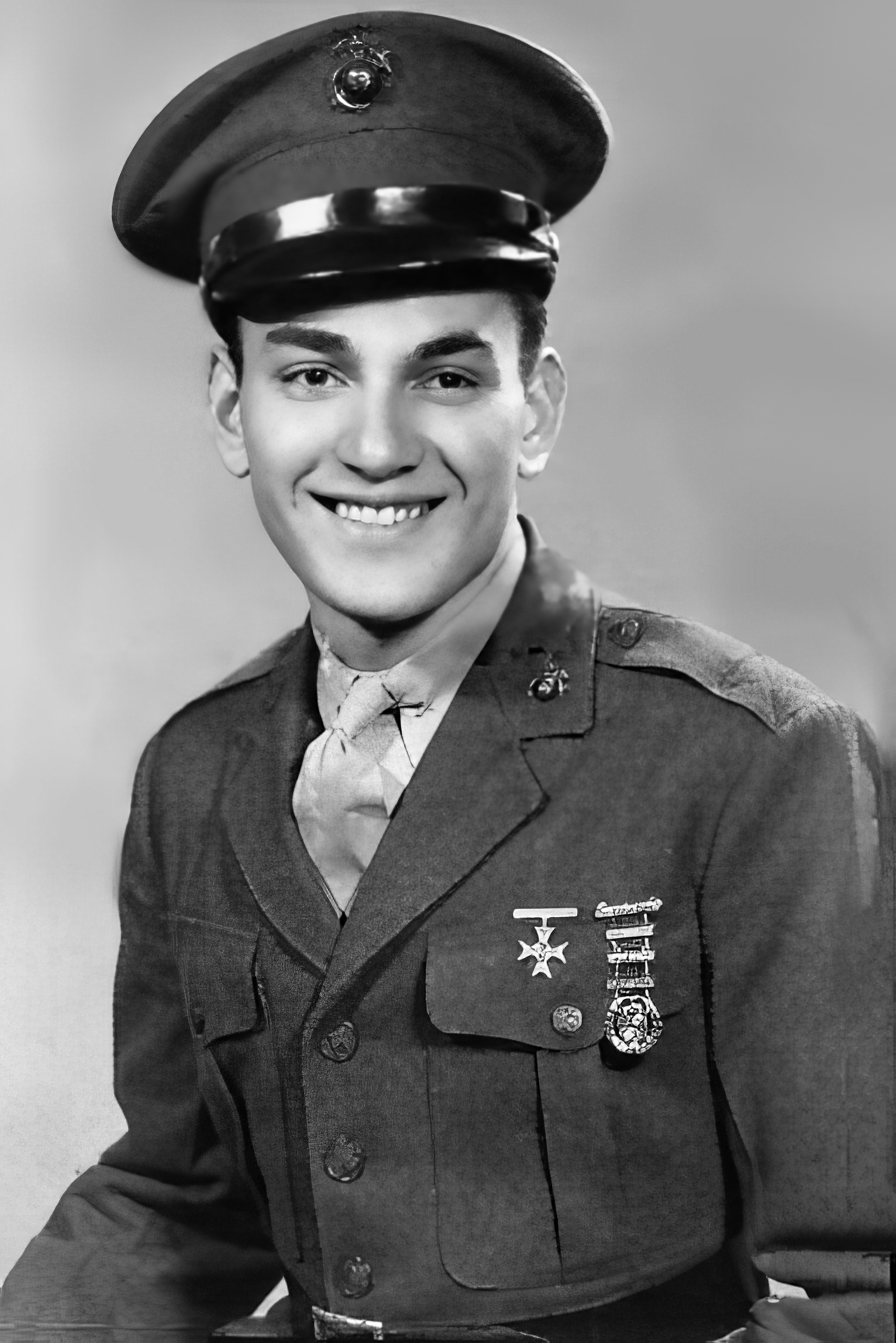 Regimental Weapons Co
Manuel 'Berk' Berkowitz, Regimental Weapons
"My unit was with the third wave that went ashore under enemy fire. We stayed in combat until the island was secured. Yes, we were the unit that went into the flats between and below the ridges (mountains) tot draw enemy fire so the other units could get to the top of the same ridges! That campaign cost us 15 KIAs and 65% of the unit wounded."
7th Marines (- 2nd Battalion)
Robert W. Ledbetter, H&S-3-7
"I was a runner from battalion to Reg. I was always alone and on my own. We landed on Peleliu early in the morning amid enemy fire, the navy bombers and destroyers and cruisers. We made it to shore. The fellows were slow getting out so I went over the side and dropped to my hands and knees to find a 25 lb. bomb directly under me.
I was to find Reg. headquarters. My buddy that was to go with me was killed as he left the tank. I crossed the island to the 3rd Bat. HQ. The road along the north shore was very dangerous. I traveled that road by myself everyday twice from Reg. to bat. Headquarters. Many times I was fired on, but never hit."
Carl F. Scott, B-1-7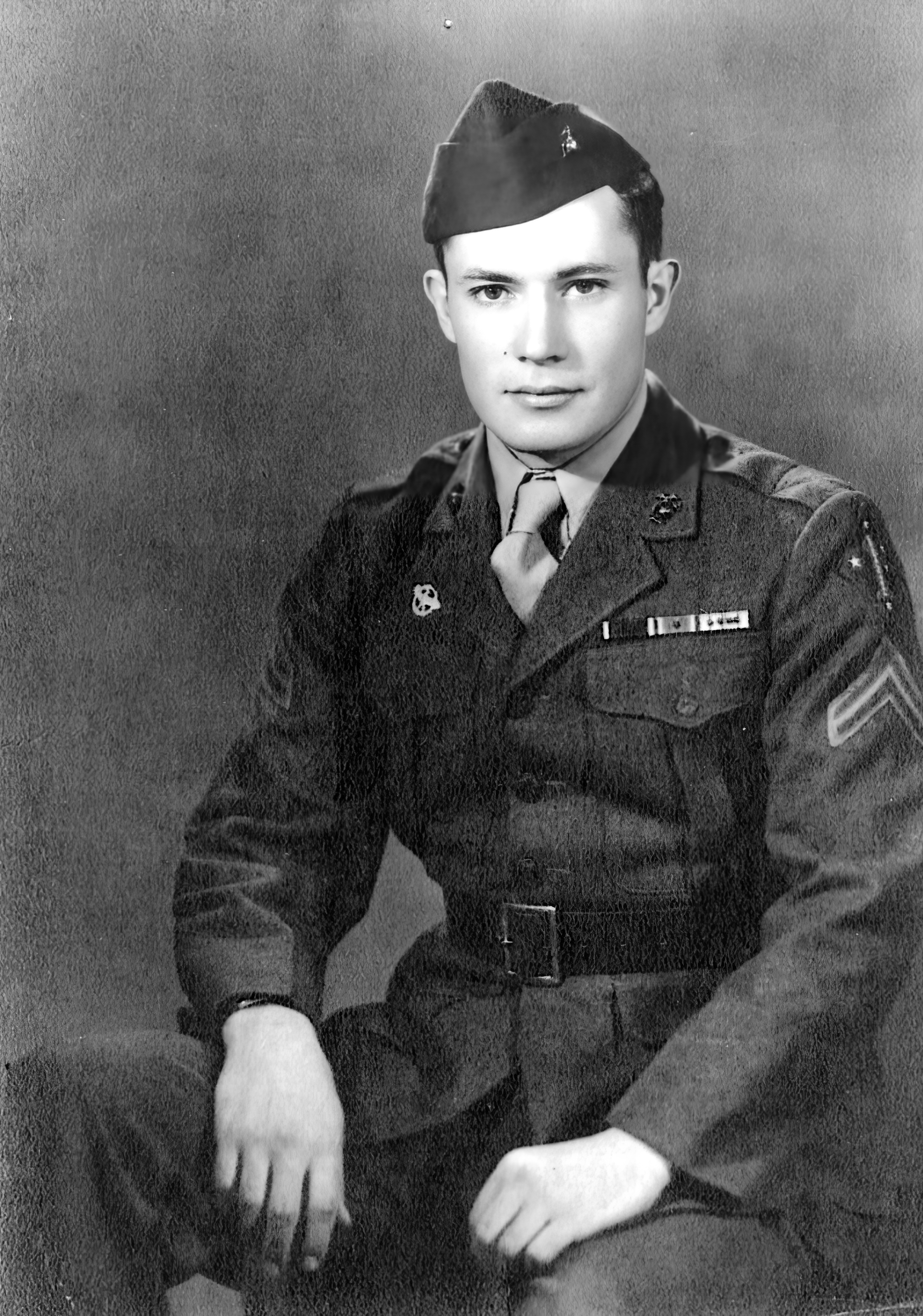 Joe Lloyd South, B-1-7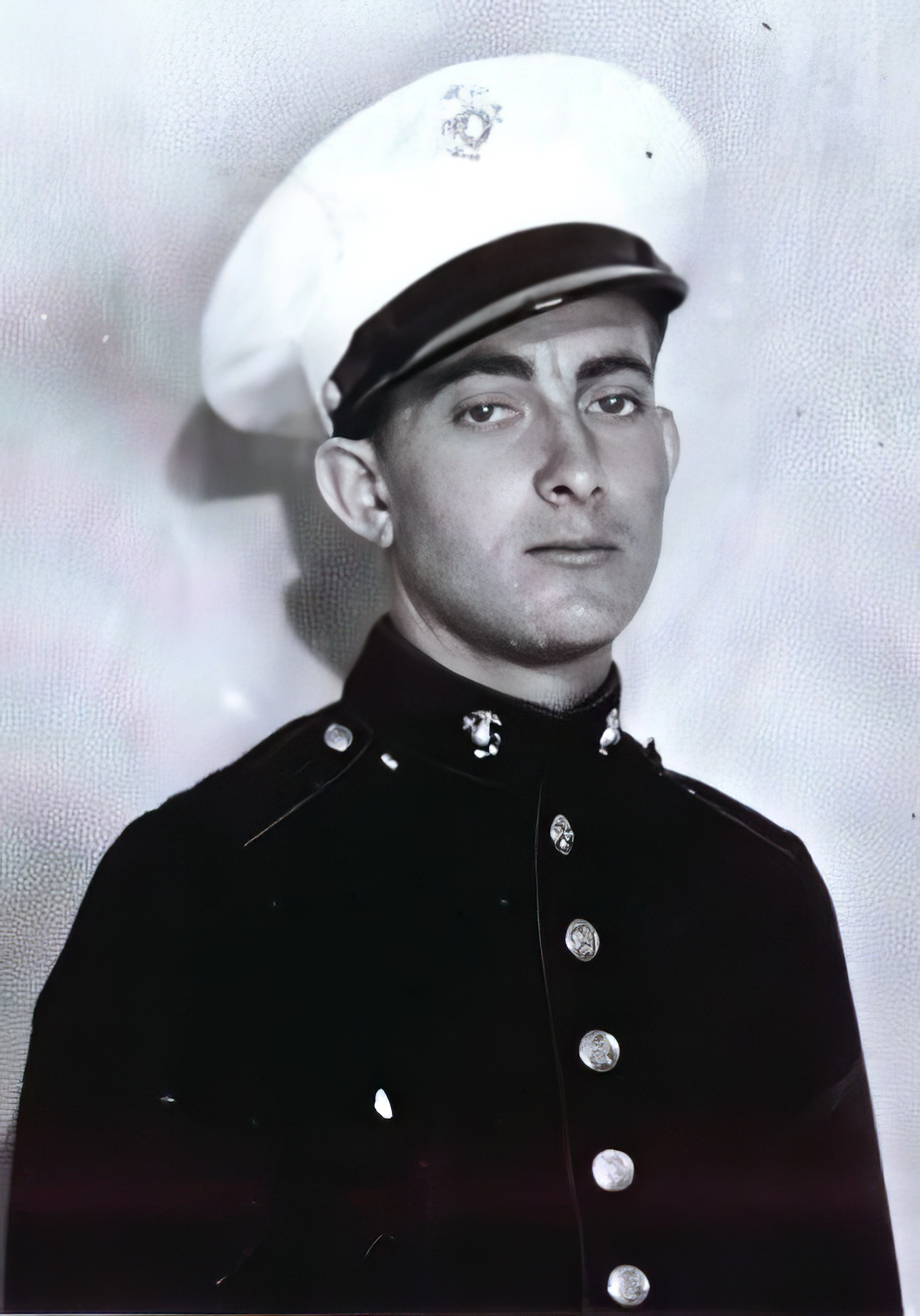 (Information provided by William Eagar, his grand nephew)

"BORN: 17 Sept 1921, Blue Mountain Arkansas
DIED: 15 Sept 1944, Peleliu Island, Palau
SERVICE (SEA & FOREIGN): Asian-Pacific Area, 19 July 1942 to 15 Sept 1944

Participated in action against the enemy at Guadalcanal, Solomon Islands 18 Sept 1942 to 5 Jan 1943. Eastern New Guinea Operation 9 Oct 1943 to 24 Dec 1943. Cape Gloucester, Bismarck-Archipelago Operation 26 Dec 1943 to 1 May 1944. Peleliu, Palau Islands 15 Sept 1944."
Edwin S. Williams, B-1-7
"In early September, we loaded aboard the USS Ormsby, an assault transport, and departed for the invasion of Peleliu in the Palau Islands of the Western Carolinas. D-Day was September 15, 1944. The 7th Marines were the reserve regiment for the invasion, and normally the reserve does not participate in the initial assault, but is kept offshore to be used when and where the division commander needs it. However, as we were going fairly deep into Japanese territory, the Navy was concerned about its transport ships being caught by the Japanese Navy if it came out to contest the landing, so all three regiments landed abreast, the 1st Marines on the left (North; we hit the western side of the island), the 5th in the middle, and the 7th on the right. The other two regiments had fairly wide beachheads as they each landed two of their three battalions at once; the 7th went in on a battalion front. The first battalion was the second one to land. Our company was in the 13th boat wave.
As we came to the beach, we went through a gap in the barbed wire. Just as the last guy (the platoon sergeant) got off the rear ramp of the tractor, it was hit by something (probably a mortar round – they were really raining down on that beach) and blew up, knocking the platoon sergeant head over heels into the water. However, he was not badly hurt, only slightly deafened. The tractor crew (2 men) did not survive. Those tractors were powered by aircraft radial engines and burned 100 octane fuel; when they were hit, that gas went off like a big bomb."
Cpl. Jeb S. Lord, C-1-7
"As we went in on Sept. 15th I don't remember being scared but was some excited. I made it through fine as we secured the south end of the island. I was used mostly as a stretcher bearer, water hauler, etc. until we moved north to relieve part of the 5th Marines. The word went out for anyone with machine gun training so I volunteered. Anything to get on the line. I was put on a gun that was already set up in the line so I spent that morning of the 25th of Sept. building up a parapet around my position. I had not been assigned a helper. About noon of that day an artillery piece started firing from the hills and he was shooting at ME! After four or five rounds going close overhead he finally hit my parapet. I was soon on a hospital ship and on my way back to New Caledonia."
Patrick A. McGinn, C-1-7
"I was on the invasion of Peleliu on Sept. 15 1944. I went ashore on D day with C-1-7 and stayed until we went back to Pavuvu. I was wounded on Sept 23 but never left the island. I was also in the first wave on Okinawa. I always said I would rather go through two landings on Okinawa than go through one more operation on Peleliu."
Salvadore "Sam" Henry Monico, C-1-7
"I made the invasion and went through the whole battle. My biggest experience was Bloody Nose Ridge going up and coming down several times. They really put a number on us at that time, but we kept at it and finally got it."
Edward Andrusko, I-3-7
From his book Love and War: Beneath the Southern Cross
(After word came back from battalion headquarters that there were no reinforcements or stretcher-bearers available) "Our trio set out to find help. We visited several headquarters command posts, and various rear special units, seeking assistance, but none was available. Our Top Sergeant tried to influence his friends to get our company help, but there just wasn't any.
A young black American sergeant overheard our plight, walked up and said, 'I heard you all were looking for troop replacements or supply help. We are from the Marine Ammunition Depot Company and have had some infantry training.'
Our Top Sergeant looked a little stunned and speechless. The races were so completely segregated during this era that we had no idea who these black servicemen were.
The Top cleared his throat and asked, 'Who are you? Are you Army, Navy, Seabees, or what?'
'Top Sergeant, I am a US Marine Sergeant. My men on this beach are all US Marines!'
Our Top Sergeant appeared very puzzled. How could he bring in an all-black unit to rescue wounded members of a Line company that was part of the famous 'All-White' First Marine Division? This division was heavily complemented with white Southern officers and men, home based at New River, North Carolina, and 'the pride of the South'.
Our perplexed Top Sergeant tried to discourage the volunteers from coming, stating they were not trained or qualified for the terror of this battle. By now, the volunteers had heavily armed themselves and lined up behind their Sergeant who insisted we lead the way to the front lines.
I heard our seasoned Top Sergeant say, 'Well, don't say I didn't warn you!'
When we reached our mauled company area, it looked like General Custer's Last Stand. The Top Sergeant came upon our company's new replacement officer in command and said, 'Sir, I have a platoon of Black ... I mean a platoon of Marine volunteers who came to help.'
The young new Commanding Officer said, 'Thank God. Thank you, men. Sergeant, take over. Get our wounded and dead out.'
We gave covering fire and watched in awe as our gallant volunteers did their job. Some of these new men stoically held a casualty stretcher gently in one hand as 'true angels of mercy'. Then, when necessary, they would fire an automatic weapon with the other hand, while breaking through the surrounding enemy.
One badly wounded white Southerner said, 'I felt like I was saved by the Black Angels sent by God. Thank you. Thank you all!'"
John C. Gravitt, I-3-7
(As told by his sister, Joanna): "My brother, John C. Gravitt, was born in Oklahoma December 22, 1917, and died September 23, 1944 on the island of Peleliu. He had joined the Marines in late 1938 because, like so many young men of the time, couldn't find a job and wanted to make something of himself. So, he picked what he believed to be the best organization, the United States Marines.
During the first years of his service, John served on the battleship, U.S.S. Oklahoma, and pitched on their baseball team which very proudly won the Fleet championship. He was then known as "Tiny" Gravitt, which, of course, meant he was really pretty big. On the night of December 6, 1941, he was given leave to go into Honolulu for the weekend, and that is where he was when the Japanese struck Pearl Harbor.
We didn't hear from John for many months after that and didn't know if he were alive or dead. However, eventually we got a letter telling us that they were somewhere in the Pacific. Of course, later we were to find out that his unit was fighting across the Pacific in the British Solomon Islands which included Guadalcanal. He contracted a severe case of malaria and was sent home to Lettermen's General Hospital. Then, he was transferred to Quantico to train new recruits because of his previous experience. When he had been there about 10 months, he requested to be sent back to the Pacific as he wanted to help find and release our brother, Floyd, a Japanese Prisoner of War in Osaka. The request was granted, but his wish was not to come true.
There were many battles ahead for him and the last one was on Peleliu. On Peleliu John was killed in action "against enemy Japanese forces". On the day of his death, according to the citation for the Navy Cross, he was leading his platoon in defense of a sector of the front lines when he observed a group of Japanese moving to a new location. He was aware that their fire from this point would imperil an adjacent unit and render his unit's position undefensible. He seized an automatic rifle from one of his men and "courageously making his way to an open area, delivered intense, accurate fire on the enemy group until he was mortally wounded."
My brother, Lt. John C. Gravitt, is buried in Punchbowl Cemetery, Hawaii, alongside another brother, Sgt. Wilbert Gravitt, II AAF Bomb Group, who died in a bomber crash in 1942. My third brother, Floyd Gravitt, was captured on Corregidor and was a Japanese Prisoner of War until the end, but was fortunate to come home and live many happy years."
Company C (- 2nd Platoon), 1st Engineer Battalion
No veterans have submitted recollections.
Company C, 1st Medical Battalion
Ray J. Dini, C Company, 1st Medical Battalion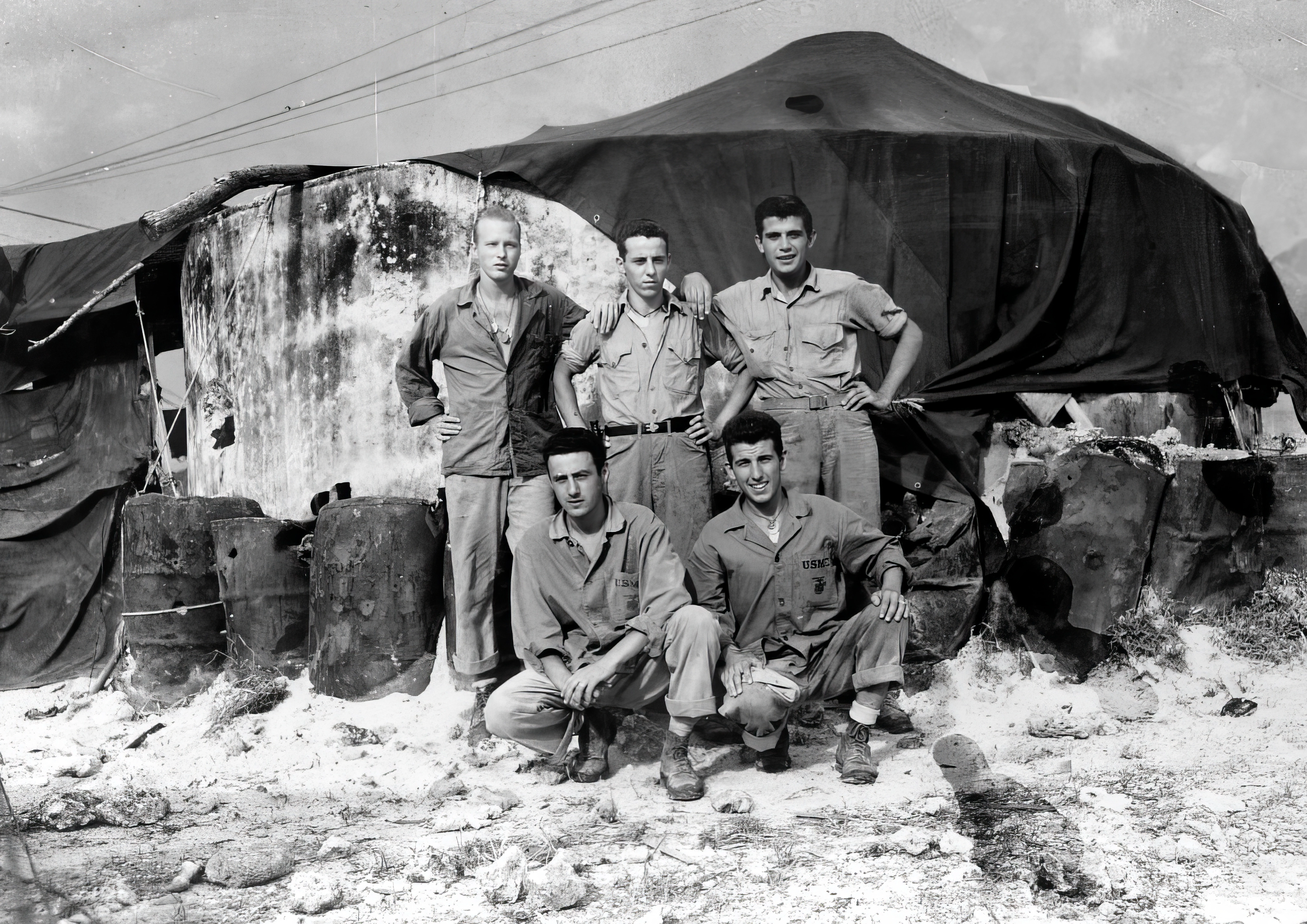 "This is an image of a pill box — we put a tarp over the top to cover the shell holes and made our home in there for awhile. The drums in front of it are full of concrete."

L to R: Charles Peterson, Ray Dini, William Peterson, Reno Pisina, Elmer Psihoda
Company C, 1st Pioneer Battalion
No veterans have submitted recollections.
1st and 4th Platoons, Company B, 1st Tank Battalion
No veterans have submitted recollections.
3rd Platoon, 1st MP Company
No veterans have submitted recollections.
Detachment, 4th Joint Assault Signal Company
Joe Shipman, 4th JASCO, 7th Marines
"We were up and out at dawn and still far enough from the island that the sky was not yet contaminated by the pollution of the air. I remember that morning as clear and bright, and the ocean was as calm as a pond in your back yard. Maybe my adrenalin was just running to fast. I was in a JASCO unit attached to the 7th Marines. We had our confrontations, but am sure glad I wasn't with the 1st. We even had time occasionally to eat our K rations and wash it all down with the 'fragrant' water supplied that first day or two All in all it made us just that more grateful for Pavuvu."